Welcome to

An explosive overhaul of former factories, wholesale markets, and warehouses transformed the West Loop into a diverse array of reputable eateries, gallery and designer spaces, and converted lofts and condos for singles and families alike.
Key Details
The Neighbors
A growing population of young professionals and families, restaurateurs, and some major tech industry players.
What to expect
An ingrained creative vibe at the edges of downtown Chicago. Time Magazine deemed it "the land of the living dead" in 1949, but the West Loop of today is very much alive. Art galleries and antique sources for collectors of all kinds, stylish shops for fashion-forward consumers, innovative restaurants and bars, and a thriving music and street fair scene regularly draw crowds.
The Lifestyle
Endless dining and bar options will keep you up 'til dawn. A slew of openings centered around Randolph Street and Fulton Market make restaurant- and bar-hopping in the untrodden territory a nightly possibility. You can go from taqueria to futuristic cocktail lounge, sushi bar to secret underground speakeasy, whole-animal butcher shop to wine tasting, burger bar to champagne salon—and the neighborhood's evolution is far from finished.
Unexpected Appeal
A budding family-friendly atmosphere.
There's a growing market for young families as more businesses (and young professionals) infiltrate the neighborhood. Townhomes and larger condo units can still be hard to come by as many are snapped up almost as quickly as new development blueprints can be drafted! But there are exceptional public and private education options along with a number of parks in the area.
The Market
Newly developed luxury condos and urban lofts with open layouts in remarkable, antiquated buildings.
Fresh condo buildings are cropping up along with the influx of newcomers, and prices have kept up with the change in population. Airy loft conversions feature newly-minted interiors with original exposed brick, high timber ceilings, and huge factory-sized windows within the bones of decades-old buildings.
You'll Fall In Love With
The city's only year-round, indoor market and "Restaurant Row," where you can try a new dining spot every night.
In addition to the loft-style living, residents savor trips to the Chicago French Market, which showcases local artisans and purveyors most days of the week, and the vibrant strip of Randolph Street dubbed "Restaurant Row," which is lined with some of the city's best eateries.
LOCATED IN DOWNTOWN CHICAGO


COMMUTE TIMES
McCormick Place 31m by train, 12m by car
Merchandise Mart 17m by train, 8m by car
Union Station 10m by train, 5m by car
Millennium Park 23m by train, 12m by car

Boundaries
East to West Chicago River to Ashland Avenue
North to South Grand Avenue to Van Buren Street
Nearby Neighborhoods Chicago Loop, River North, and Wicker Park

Attributes
Trendy, Artsy, Edgy, Industrial, Off-The-Beaten-Path, Energetic, Diverse & Eclectic, For Foodies, Dusk-Until-Dawn Nightlife, Affordable, Lofts, Public Parks.
Let's Talk West Loop
Luxe lofts, galleries, boutiques, and restaurants are still distinguished by West Loop's industrial roots.

From a gritty, partially abandoned manufacturing corridor to a burgeoning neighborhood flush with must-visit spots for foodies, eclectic art galleries and shops, and numerous acres of redeveloped park space, West Loop is now one of the hottest downtown areas in which to settle down.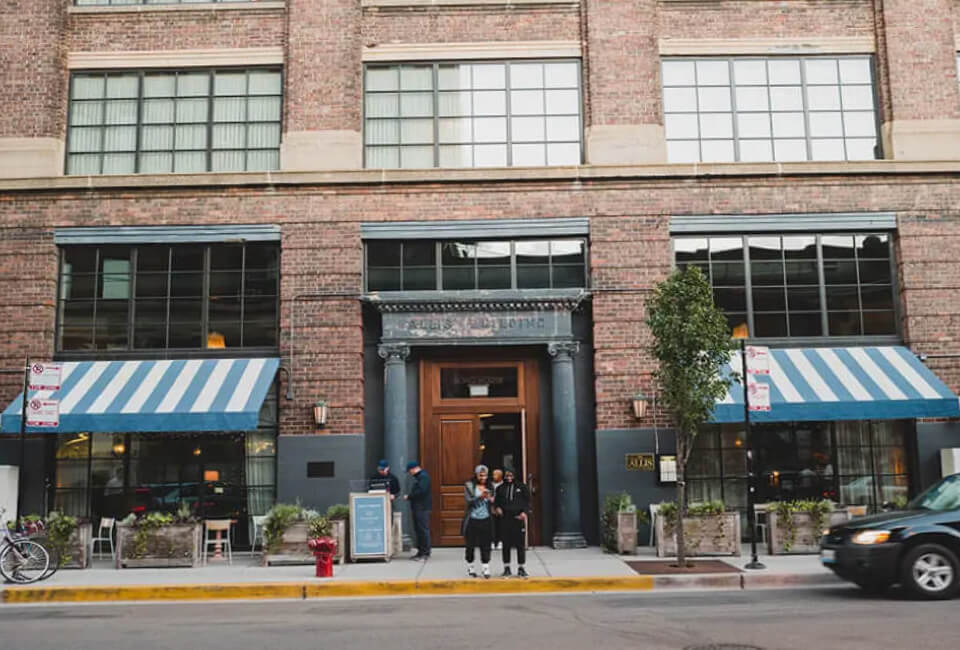 Contact Us
Our clients come first - let our team guide you through the real estate process. Our response time? Unbeatable.